The Hollywood Reporter article caught the attention of the vaccine propaganda machine and triggered the censorship reactions...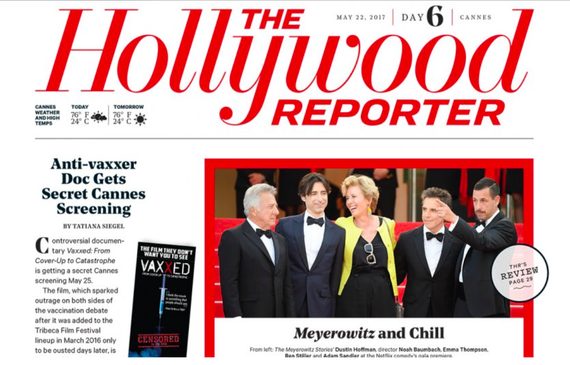 Hollywood reporter
Controversial Anti-Vaccine Doc 'Vaxxed' Gets Secret Cannes Screening
2:42 PM PDT 5/21/2017 by Tatiana Siegel
Vaxxed From Cover-up to Catastrophe
Cinema Libre already has secured distribution deals for the film in Italy, Germany, Poland and China.
Controversial documentary Vaxxed: From Cover-Up to Catastrophe is getting a secret Cannes screening on May 25.
The film, which sparked outrage on both side of the vaccination debate after it was added to the Tribeca Film Festival lineup in March 2016 only to be ousted days later, is being sold here at the Marche by L.A.-based distribution and sales company Cinema Libre in international territories, where it is doing brisk business.
"We've done secret screenings throughout Europe where we don't announce the location until the day before because there are organized groups of pro-vaccine folks who will mobilize 10-20 people to call the venue that will threaten the venue or get it to change its mind about screening the film," says Beth Portello, Cinema Libre CFO and vp marketing and publicity.
Cinema Libre will screen the film at Arcade 1 at 3:30 p.m.
READ MORE
'Vaxxed: From Cover-Up to Catastrophe': Film Review
Vaxxed became a lightning rod in 2016 when Tribeca selected it to screen. The film is directed by Andrew Wakefield, the U.K. doctor who became the leading voice among the anti-vaccination movement when he wrote a 1998 research paper that found a link between the MMR vaccine (for measles, mumps and rubella) and autism. The study was later discredited by other researchers and, in 2010, was formally retracted by the journal that published it. Vaxxed features recorded phone calls from a CDC whistleblower claiming that the public health institute falsified studies.
The film earned $1.2 million — an impressive sum for an advocacy documentary — after its release in
April 2016, becoming Cinema Libre's highest-grossing film ever by overtaking its previous top earner
Outfoxed: Rupert Murdoch's War on Journalism.
Here in Cannes, Cinema Libre already has secured distribution deals for the film in Italy (Wanted), Germany (Busch Media), Poland (TVN) and China (Gaia Studios). Deals are pending in Japan, Holland, Israel, Syria, Mexico and South Africa. Vaxxed also has played theatrically in Ireland, the U.K., Australia and New Zealand.
READ MORE
Anti-Vaccine Doc 'Vaxxed': A Doctor's Film Review
The success of Vaxxed led the L.A.-based distributor and sales agent to acquire another documentary that questions the safety of vaccinations, Marie-Ange Poyet's Injecting Aluminum. The French film, which has been dubbed into English, makes the case that the metal used in nearly all of children's vaccines causes neurological problems and calls into question its use.
"The vaccination debate is as intense in Europe as it is in the U.S.," Portello adds. "But the idea that there can't even be a debate is absurd."
In 2016, Tribeca Film Festival founder Robert De Niro appeared to walk back his decision to pull Vaxxed when he told Today: "I think the movie is something that people should see. There was a backlash that I haven't fully explored and I will. But I didn't want it to start affecting the festival in ways I couldn't see."
A version of this story first appeared in the May 22 Cannes daily issue of The Hollywood Reporter magazine.